Leave the paper money at home and just bring the plastic — our Visa® debit card is safer and accepted worldwide.
Details
Debit card with qualified application

Fast and convenient
Safer than carrying cash
More convenient and safer than checks
Eliminate cost of purchasing checks
Make purchases anywhere Visa® is accepted
Includes account alerts
24/7 access to funds via ATMs
$5 Annual Fee applies to debit cards attached to each account.
School Spirit Debit Cards
Badger Bank is pleased to offer custom School Spirit Debit Cards!
The School Spirit debit card can be used at ATMs or for purchases, just like a regular debit card. By using this card, Badger Bank will make a donation to your school district each time you make a purchase.
School Spirit Debit Cards can be tied to any Badger Bank checking account product, and are available for the school districts listed below. Contact us today to start paying with PRIDE!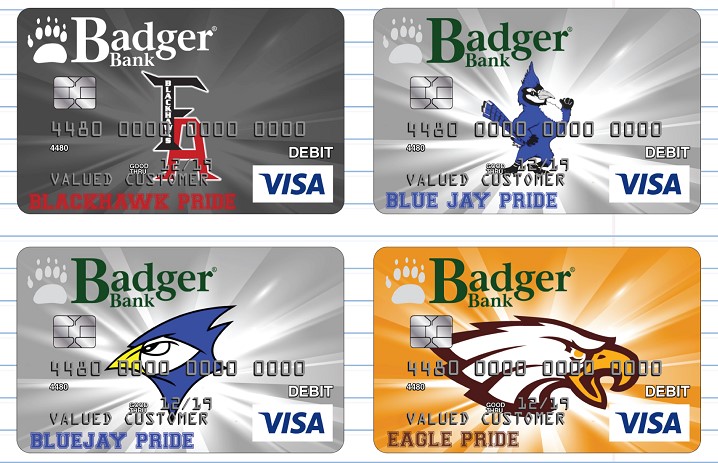 Travel Plans
Traveling in the near future? Take us with you!
You can use your Badger Bank debit card anywhere Visa® is accepted. Please note while traveling you must process your transactions PIN based. Be aware that fast food establishments and vending machines do not accept PIN based transactions. Please plan accordingly.
For additional security of your card information it is recommended that you pay inside when purchasing fuel.
Should suspicious activity occur on your debit card our card vendor SHAZAM may reach out to you to validate a transaction that has occured on your card. SHAZAM is available 24/7 and can be contacted at 1-855-219-5399. This number can be used to report lost or stolen cards. During normal business hours feel free to contact Badger Bank at 1-920-563-2478.